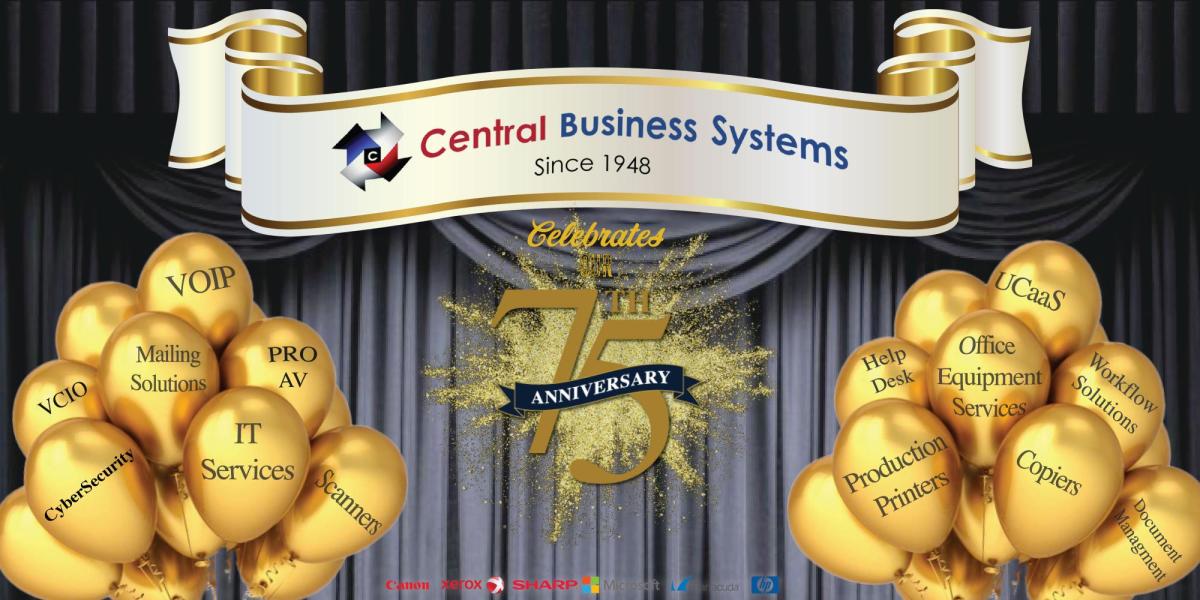 [Melville, January 2023] Much has changed since Central Business Systems began selling typewriters in Baldwin in 1948. Now based in Melville, the family-owned business (which was formerly called Central Typewriter) has evolved and expanded to become a major provider of innovative office technology and services, including total document imaging solutions, copiers, printers, advanced business products, professional IT, security & cloud services as well as VOIP and Unified Communications.

But as Central enters its 75th year in business, some things remain the same: Personalized customer service, reliability, and integrity, along with an ability to adapt to change, remain the cornerstones of the company's success.
Today, Central is led by Co-Owner and President Mike Chambers and Co-Owner and Vice President Sean Infante. An accomplished office technology leader with more than 35 years of industry experience, Mr. Chambers took the helm at Central in 2001 and has presided over 800% growth in the company, which now employs over 50 people. Mr. Infante began his career at Central in 1986, learning the industry from the bottom up, and has established a well-earned reputation for building relationships with customers through a model of outstanding personalized customer service.
The commitment of the leaders and the entire Central team has helped garner many industry awards and accolades for the company, which was named to the Top 100 Office Servicing Organizations in the U.S. by Pros Elite Group and received a National Dealer of Excellence Award from Sharp, an Outstanding Partner Award from Canon USA and a Platinum Partner Award from Xerox. In addition, Smart CEO presented Mr. Chambers and Mr. Infante with a Corporate Culture Award, a Family Business Award and a Future 50 Award. The company was named a Business Achievement Award Finalist by HIA-LI and a Fastest Growing Private Company on Long Island by KPMG, Hofstra University and Long Island Business News.
The company and its leaders have also been recognized for their charitable contributions. Both partners were recently honored with the Shepard's Award from SCO Family of Services in recognition of their philanthropic work, while Family Service League presented them with the Corporate Leadership Award. Mr. Chambers and Mr. Infante are frequent contributors to many local charities and continue their betterment of the Long Island community.
When the pandemic began, many Long Island businesses and organizations had to transition from in-office to remote operations virtually overnight, and Central worked around the clock to support the continuity and operational needs of its clients. The company has served as a one-stop shop to meet businesses' needs as they transition to remote and hybrid workplace models. Central has provided remote workplace devices, document management solutions, collaboration and video conferencing solutions, managed IT, and cybersecurity solutions to ensure clients can operate seamlessly and securely in a flexible and evolving work environment.
"In our 75th year, we continue to evolve to provide customized solutions to meet the changing needs of our clients," said Mike Chambers. "We are proud and feel blessed to have stood the test of time to reach this milestone, and we are grateful to our dedicated staff, valued customers and the community for their trust, support and continued commitment to us."
"At Central Business Systems, we pride ourselves on our values of service and integrity, which have been integral to our company throughout our history," Sean Infante said. "Our 75th anniversary is a celebration of our company's legacy, of who we are today and of the exciting future that lies ahead."
Media Contact: Melissa Rose, Marketing Works PR
Tel. 631-882-7938 Email: Melissa@Marketingworkspr.com